72nd Annual General Meeting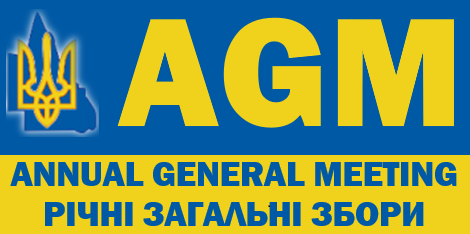 NOTICE OF ANNUAL GENERAL MEETING
OF THE
UKRAINIAN COMMUNITY OF QUEENSLAND INC
 Notice is given that the Ukrainian Community of Queensland Inc.
will hold its annual general meeting for all its members at the
Ukrainian Community Centre
47 Galsworthy Street, Holland Park West, QLD 4121
at 2pm sharp on Sunday 26th September 2021.
Many of the existing committee members have agreed to serve for 2021/2022 term.
If you would like to be a candidate to serve on the management committee for 2021/2022, then a nomination must be made in writing and signed by the member and the member's proposer and seconder, and must be lodged with the Secretary by 2pm on Sunday 19th September 2021.
Membership renewals will be processed prior to the AGM from 1pm – 1:50pm for those members unable to renew online.
The Annual General Meeting is open to all financial members of the community and invited guests only.
Associate (social) members are ineligible to attend or vote.
An Agenda and Minutes from the previous AGM will be distributed via email to eligible members.
Українськa Громадa Квінсленду
запрошує всіх членів на
РІЧНІ ЗАГАЛЬНІ ЗБОРИ
в неділю 26-го Вересень 2021р
Початок: год. 2:00 по пол
Український Народний Дім
47 Galsworthy Street, Holland Park West, QLD 4121