Links to Department of Home Affairs support for Ukraine nationals and visa processes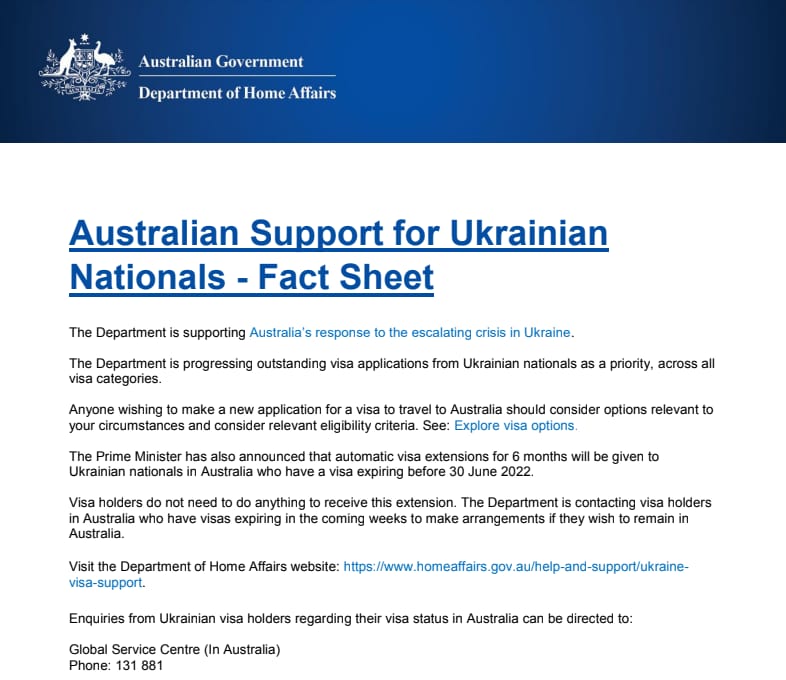 The Department of Home Affairs ("The Department") is supporting Australia's response to the escalating crisis in Ukraine.
The Department is progressing outstanding visa applications from Ukrainian nationals as a priority, across all
visa categories.
Anyone wishing to make a new application for a visa to travel to Australia should consider options relevant to
your circumstances and consider relevant eligibility criteria. See: Explore visa options.
The Prime Minister has also announced that automatic visa extensions for 6 months will be given to
Ukrainian nationals in Australia who have a visa expiring before 30 June 2022.
Visa holders do not need to do anything to receive this extension. The Department is contacting visa holders
in Australia who have visas expiring in the coming weeks to make arrangements if they wish to remain in
Australia.
Visit the Department of Home Affairs website: https://www.homeaffairs.gov.au/help-and-support/ukraine-
visa-support.
Enquiries from Ukrainian visa holders regarding their visa status in Australia can be directed to:
Global Service Centre (In Australia)
Phone: 131 881